Overview
There are 50 million people around the world living with dementia. One key challenge is knowing what will happen to them following their diagnosis, whether their memory and thinking will stay the same for some years or could change quickly. This uncertainty makes it difficult to plan, for example to know what help and support a person might need in one, two or three year's time.
With the QMIN-MC study we are building a dataset that can be used to validate new artificial intelligence (AI) method in the real world memory clinic setting across the UK. These AI tool uses brain scans and can help in various ways, for example to speed up the diagnosis of memory and thinking disorders, and to help us predict what might happen in the future to people with Alzheimer's disease and similar diseases.
Our vision is to provide artificial intelligence guided tools making the best use of all the available information from brain scans to support memory clinics in decisions about diagnosis and care.
What we use QMIN-MC data for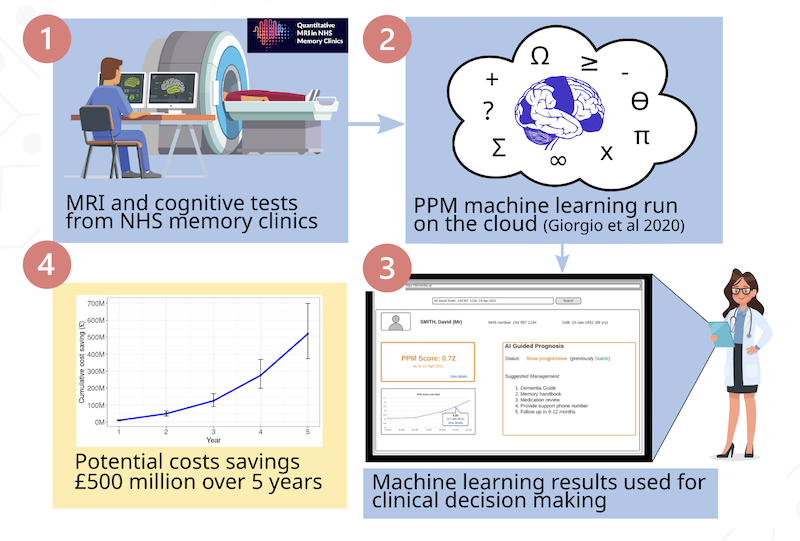 The trial uses a machine learning model published in NeuroImage Clinical and has received wide publicity with articles published on the BBC, NHS and other news websites as shown below.
QMIN-MC in the News
When setting up the study a number of news outlets were interested in what we were doing. Following the links below for more information.
Accessing the Data via DPUK
The QMIN-MC dataset is now available on the Dementia UK platform (DPUK), which is a large platform providing researchers and healthcare professionals with a valuable resource for studying cognitive neurodegenerative disorders. Our available dataset includes a wide range of information, including demographics, clinical assessments, and imaging data - making it a comprehensive tool for understanding the disease. We encourage all researchers and healthcare professionals to take advantage of our resource in their work!

For collaborators
We are keen to hear from researchers or clinicians who would like to collaborate to use the data for validation of AI algorithms, or to help use recruit from additional memory clinics.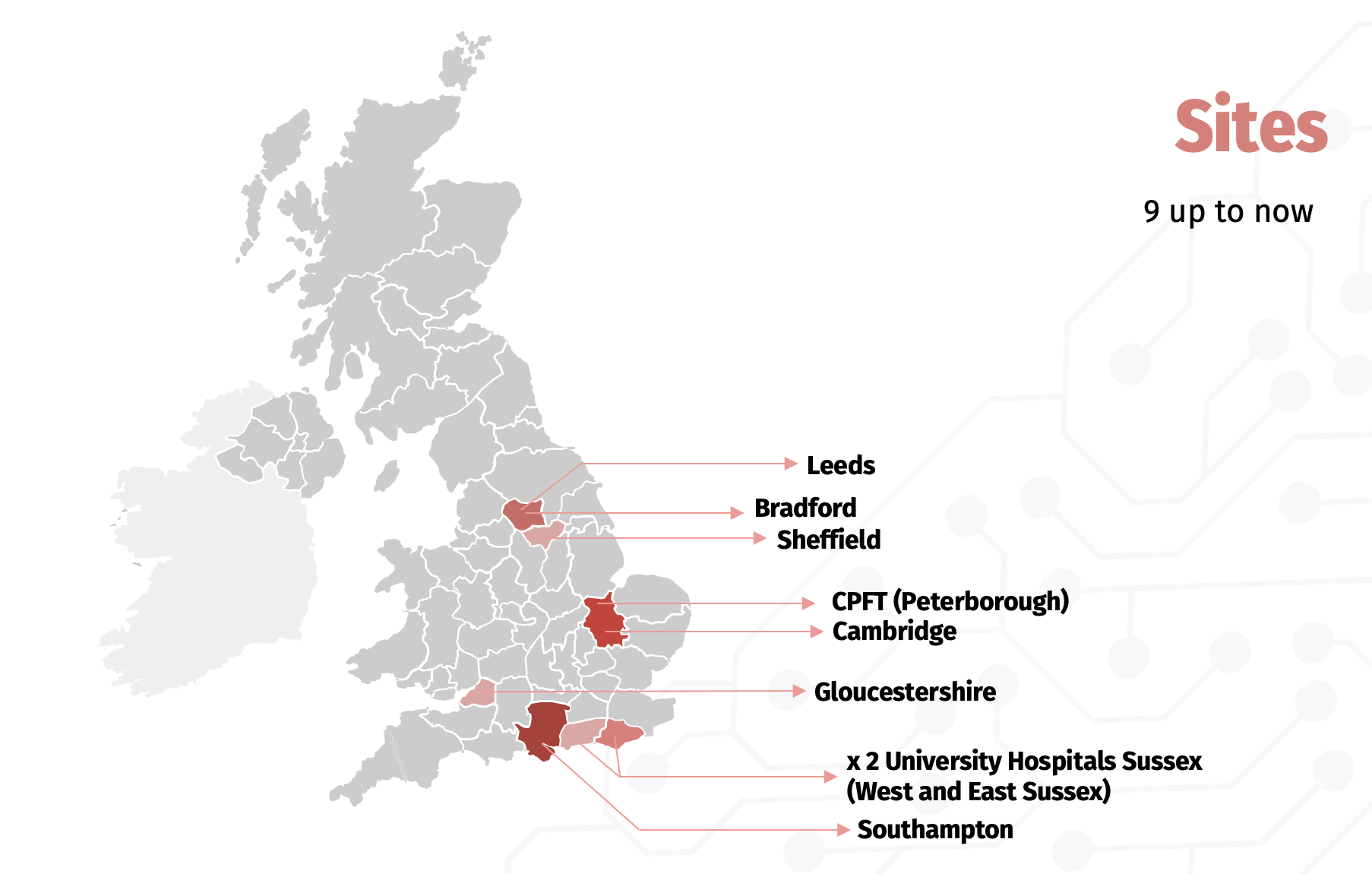 We are interested in adding more sites both within the UK and internationally. If you think this is something you would be interested in, please get in touch with us!
Do not hesitate to contact us for any kind of collaboration.
For participants
What is the purpose of the study?
New types of brain scan analysis using computer algorithms may be better than standard MRI reporting to measure changes to the brain in disease.
Up until now this type of MRI scanning and analysis has been limited to research projects. This study aims to find out whether these new ways of looking at MRI brain scans are useful to help with diagnosis and prognosis of memory and thinking problems. We will therefore be working with research groups and with commercial companies to design tests on MRI scans that can be used in the memory clinic.
Can I take part in the study?
You can only take part in the study if you attend a participating memory clinic. Unfortunately you cannot volunteer outside of these memory clinics. If you attend one of the memory clinics taking part in the study and you need a brain scan, you may be invited to take part.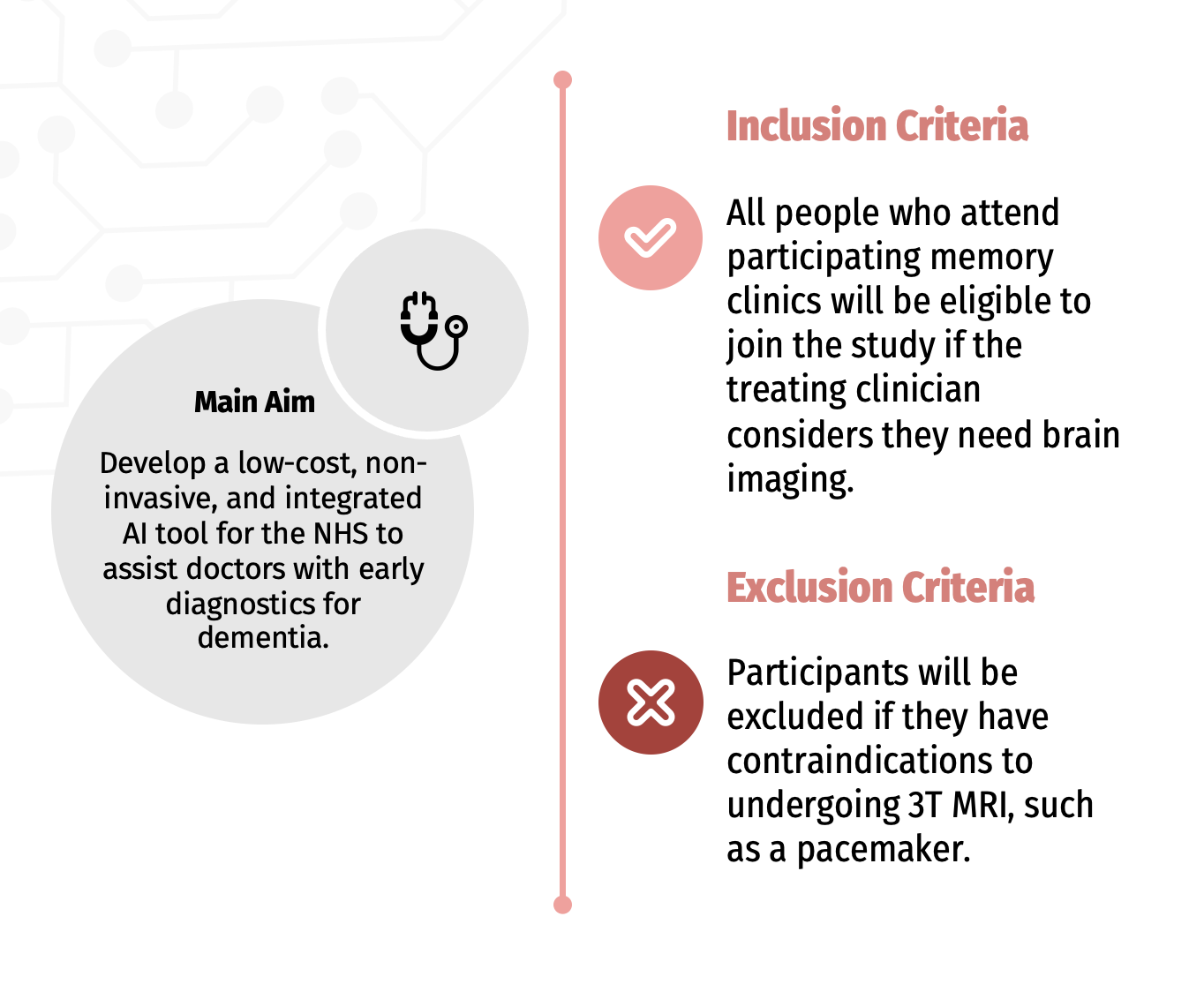 What will the day involve?
On the day you will have an MRI scan. This would be very similar to a scan you would have on the NHS. Usually an NHS MRI scan lasts 15-20 minutes, the study the scan is slightly longer, lasting around 30 minutes.
Researchers will access selected parts of your medical records to supplement the imaging data, which will include information about your diagnosis, cognitive tests and any previous brain scans you may have had. Only researchers who are health professionals, or who have undergone background checks will be able to access your clinical records.
Who has reviewed the study?
All research in the NHS is looked at by an independent group of people, called a Research Ethics Committee, in order to protect patient safety, rights, wellbeing and dignity. This study has been approved by the East of England - Essex Research Ethics Committee.
Our team
Different people work on diverse aspects of this study, and you can find a list of the current team members below.